Active Health Physical Therapy
AVC is excited to announce that we have partnered with Active Health Physical Therapy to help keep our athletes safe and healthy!
This partnership will include FREE screenings to all AVC athletes. If a serious injury is the issue, we will also have access to Active Health's Team Doctor, Dr. Canales.
All screenings will take place on Mondays at AVC (upstairs in players lobby). Each screening will be with either Nikki or Laura, physical therapists at Active Health. To schedule a screening, please sign up ahead of time in the weekly email sent out by AVC staff.
Active Health's facility is located at 7770 Brecksville Rd #3, Brecksville, OH 44141
Androniki Christides Umina
Nikki became an athlete early in her life playing soccer. She also played volleyball and basketball throughout her younger years. Nikki pursued soccer into high school where she played for the varsity team all four years. She received her Bachelor's Degree in Biology and Sports Medicine at Baldwin-Wallace College and went on to receive her Master's of Science Degree in Physical Therapy from Walsh University. Throughout college and graduate school, Nikki became very interested in health and fitness, running outside every day and weight training 4 to 5 times a week. Years later, Nikki went on to train intensely and compete in fitness competitions which she enjoyed very much. Nikki is married now with 3 children, and she tries to be a positive healthy role model for them every day. She enjoys spending time with her family, exercising, skiing, and traveling. Nikki's parents were born in Greece, and she travels there often. She is fluent in speaking Greek.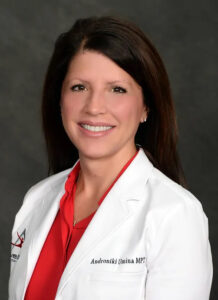 Laura Zmija
Laura grew up playing sports year-round and took a special interest in soccer and softball and played throughout high school. She earned a Bachelor's degree in Business Administration and pursued a career in event planning. She found her true passion in physical therapy after her brother was wounded in Iraq while serving in the Marine Corps and went through intense physical therapy to walk again. She went on to Lorain County Community College to pursue her career as a physical therapist assistant and became licensed in 2017. Laura is married and loves spending time with her family. She enjoys traveling and attending Cleveland sporting events and concerts in her free time.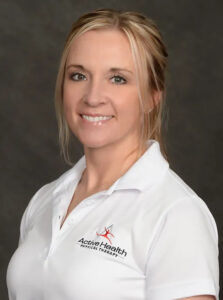 Dr. Michael B. Canales
Dr. Canales was a member of The Ohio State University's National Championship Gymnastics Team in 1996, Big Ten Conference Championship teams in 1996 and 1997, and served as the team captain of the Buckeyes from 1997 through 1999. A former U.S. Junior National Team Member and Big Ten Conference Medal of Honor Finalist, Dr. Canales graduated from The Ohio State University with a degree in Molecular Genetics.
Currently a member of the St. Vincent Spine & Orthopedic Institute in Cleveland, Ohio, Dr. Canales specializes in foot & ankle reconstructive surgery with a special interest in injuries of the Achilles tendon. He has published numerous articles in peer-reviewed journals and has delivered over 150 lectures nationally relevant to foot & ankle surgery. In 2014, he was elected Doctor of the Year at St. Vincent Medical Center and was the first surgeon to perform a mobile bearing total ankle replacement surgery in the 150-year hospital history of St. Vincent.
Despite completing his competitive career nearly 20 years ago, Dr. Canales continues to participate in gymnastics and has performed in an unprecedented number of consecutive Ohio State Alumni Gymnastics Exhibitions since 1996. He's a medical contributor for International Gymnast Magazine and currently Dr. Canales and his wife, 1996 Olympic Gold Medal Gymnast, Dominique Moceanu and their children Carmen and Vincent reside in Hinckley, Ohio.